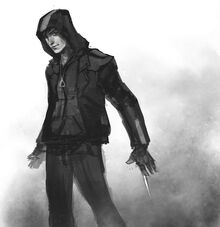 Damian Clemente (20 June 1998) is an Italian-American boy and a member of an Assassin cell.
Born and raised in the popular district of Rome, Damian had a troubled adolescence and at age 17 he moved to New York with his family. In 2017, Abstergo found him, killed his family and prevented him. For several days, Damian used the Animus to relive the memories of one of his ancestors to find a powerful piece of Eden. The Templars wanted to send the piece of Eden in orbit on a satellite to control the world population. He was freed by Jennifer Croft and his cell of Assassins; Damian joined the Assassin Brotherhood.
Community content is available under
CC-BY-SA
unless otherwise noted.