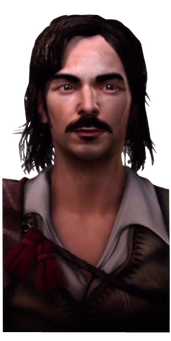 François Dantès was a French slaver working for The Turk, but operated in Portugal. He was also a Templar ally, but never managed to become a Templar himself.
When Isabel Hellidoro was being sent to Portugal, she had one thing in mind: eliminate her acolytes. The answer was one simple thing: Power. She got power by killing those who stood in her way. With the death of Isabel's acolytes, she would be the most representative member for The Turk, and later maybe even a member of the Turkish Board of Directors.
When a Templar named Xaviér de Margiot threw a lavish party, Isabel hired a young man to kill François and his associates. François had just taken a prostitute to the bushes when the woman suddenley disappeared behind a tree, seemingly taking off her dress. François wanted to peek, but instead of the prostitute, the young man came with a dagger and sliced François' throat.  
François's last name, Dantès, is a reference to Alexandre Dumas' fictional character: Edmond Dantès
Community content is available under
CC-BY-SA
unless otherwise noted.