Marie Anne: "Training? I don't need training, I need vengeance over my maman (mother) and papa (father)."
Grimon: "You need training to resist the desire of revenge. All we can do is live now, not in the past – and ponder on the things that were."
―Grimon Chimen schooling his niece, 1778
Grimon Chimen
Biographical information
Born

1740
France

Died

1796
Paris, France

Political information
Affiliations
Real-world information
Appears in
Voice actor
Grimon Amiens Chimen
was a
French
doctor
and
Assassin
operating during the
French Revolution
. He was the uncle of
Marie Anne
and
Pierre Étienne
.
Biography Edit
Early life Edit
Born to Marie Anne and Pierre Chimen, Grimon Amiens Chimen was destined to become an Assassin from his first breath – just like his four-year younger sister, Mélanie.
Grimon had a safe, but also rough childhood – like many other Assassin-children. Whilst Pierre spent his time teaching the children what they needed to know about stealth, and potions and poisons, Marie Anne taught them about combat and parkour. By their godfather, François Chopin, Grimon and Mélanie learned the ways of the Creed.
Initiation Edit
Initiated to the fold of Parisian Assassins, Grimon was the first one to be sent out on a mission. He was sent to La Rochelle and kill a Templar that plotted against the local government. Grimon succeeded in this, and manage to obtain information on a Templar enforcer. The Templar was a corrupt public officer, and needed to be silenced. By doing this, Grimon and his Brotherhood managed to get a list on seven Templar-influenced or -affiliated men and women that held the life of several citizens in thin threads.
By the time Grimon had managed to locate, kill end the Templar plots, his sister had entered the Order of Assassins and had achieved the same at the island of Corsica.
Family-letters Edit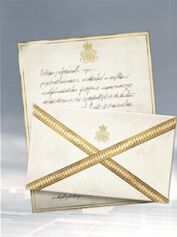 Further reading: Marie Anne Étienne/Family-secrets
At some point Grimon chose to operate as a doctor – in addition to serve as an Assassin – in the city of Paris. In his position, Grimon had the opportunity to help those in need – and using his money to aid the Brotherhood. He had hired only one servant: Vallérie. Vallérie knew about her master's affairs as an Assassin, and stepped in as doctor when Grimon had to leave.
From 1766 to '76, Grimon received letters from his sister and brother-in-law. During these ten years, it is revealed that Marie Anne was born in 1766 – and her brother in 1772. In the letter to Grimon when his sister, Mélanie, tell about her son, she speaks about their father's will; from this, it can be presumed they fought over the right of Le Louroux. It is also revealed about a person named Chat Noir, though his or her role are not revealed. Later, Mélanie write a letter to Grimon, begging him to fetch her children. She and her husband are being sent to the gallows.
The Étienne-siblings Edit
Training Edit
After bringing his niece and nephew to the city of Paris, Grimon spent the following two years to let them mourn. At some point he got his hands on his niece's plans on revenge. When he brought these plans in front of her and asked what they were for, she did not answer. Grimon therefore walked up to the to burn the sheet of paper. Moments before Grimon threw the paper inside the fireplace, Marie Anne snapped it out of his hands. Grimon was overwhelmed when Marie Anne had taken the paper without him noticing. "Impressive," he said. "What?" Marie Anne asked. To which Grimon replied that it was impressing that she could take something out from one another's hand. She told that if she had not got it, her plans would be nothing but ashes. Marie Anne was told that she could not live in the past, and had to move on.
The following month, Grimon was ready to train Marie Anne. The garden in the house at the Rue des Petits-Champs was enormous, and soon it was filled with diverse things that would be challenging for her. She was tasked by steal three letters that Grimon had placed in the garden. Twelve of the doctor's assistants – who was informed of the situation – placed themselves in the side scenes of three different places: a palace, a street-café, and docks. Marie Anne was supposed to find all the letters within the time limit – of which Grimon took with the help of an hourglass.
After collecting all of the letters, Marie Anne came back to Grimon and delivered him them. He said that she was supposed to keep and read them. Afterwards, she was supposed to read them to her brother, Pierre. Grimon left the area with his fellow-doctors. Marie Anne established herself in the study and read the letters.
While Marie Anne was targeted by diverse Templars in Paris, her brother Pierre had nothing to do. He lived in the mansion of Grimon. He wanted to become a part of something bigger, something stronger than the Assassin Order. Grimon however, thought that to control the boy, the Assassin Order just had to take him – or else he would do something really bad. He had to train, and the training program created by Grimon was enough to make his time pass by. This was however not enough: He was relentless and wanted fighting instead of lurking in the shadows – to Grimon's hatred. It was rarely Marie Anne was home these days, and was busy finding out which of the Templars pulled the strings in Paris; she worked with another Assassin named Laurent Mouzay, an these two made a spesial couple in the Brotherhood – but they did not made a relationship. Laurent found Marie Anne's brother like a bird trapped in a cage, and make him a part of the Assassin Order before he had become 18 years, more precisely: 1789, at the age of 17.
Hooligans of Calais Edit
Short time after becoming an Assassin, the siblings were sent to the city of Calais. Their mission was to take down three Templars that lead the trading-company The Turk. The Templars carried the name Joséph Iscariotte, Marguerite Murat and Shamar al-Djin. Iscariotte controlled the streets of the rich in Calais. He was a master in words, and owned a social club, form where he got money to hire brutes. These brutes controlled Calais, and made trouble for the law; they did however served as bodyguards for him. With his moneys, Iscariotte controlled lives of all the citizens of Calais. Murat controlled the streets of the poor in Calais. She was a master in duels, and owned a fightclub: Hist Taverne. She got money to hire brutes. These brutes controlled Calais, and made trouble for the law; they did also served as bodyguards for her husband. Al-Djin was a man who manipulated everything he crossed path with – this included street rats and public officers. He was ruling Calais and her citizens with an iron fist.
After removing the Templars, and the siblings were on their way home, their success had already reached the Brotherhood before them. As the siblings traveled home however, news of a Master Templar retaking the city under the Templar banner reached the Mentor and his Council. The Council had already sent Laurent Mouzay to take care of it, but Grimon followed soon after – though, of other reasons that is.
Doctor Brunet Edit
François Brunet
The Master Templar Edit
Édmound-Louis Bourienne
Picking up the pieces Edit
Restore order Edit
Revolting Paris Edit
The Lion Edit
Charles Benedetto
The Politician Edit
Édmound-Louis Bourienne
Saint Vierge Edit
Marguerite LaVenduz
Relationships Edit
Close family
Other relationships
Grimon wielded several weapons during his life. 
Abstergo Relics
 have manage to obtain all of his collection.
Grimon used several normal clothes, which are lost in history. Abstergo Relics have manage to obtain his Assassin-outfit however.
Community content is available under
CC-BY-SA
unless otherwise noted.