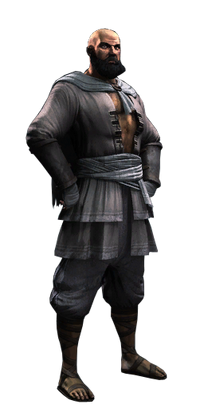 Iason Giannopoulos (1693 – 1734) was a Cypriote Templar of Greek origin operating on the island of Cyprus during the reign of the Murderess, Hacer Stavros.
Born and raised in the city of Sparta, Giannopoulos was being raised like the old Spartans in Old Greece. His father, Giannis, was a coal miner, and he expected Giannopoulos to fill his shoes. On his sixteenth birthday, Iason was therefore sent to the inland to start his career in mining. Not being glad with this job however, Giannopoulos spent his breaks on complaining about it. When he one day received news that a ship was going to leave for Cyprus in a couple of days, he did not hesitate. He left the mine and went for the ship.
At the age of 23 Giannopoulos landed on the island of Cyprus looking for work. He find it in a mining company, getting back to his normal position – but now on his own terms. The life were slightly better, but he still complained. When he therefore received an offer from a man named Waqar to serve in his gang, Giannopoulos accepted. He quickly rose in the ranks, earning the cryptonym The Miner. Giannopoulos was noticed by Waqar and his supervisor, Euthymios, and were recruited into the Templar fold at the age of 31.
Giannopoulos served under both Waqar and Euthymios for a few years before they were both killed by Hacer Stavros. During her reign, Giannopoulos were stationed in the city of Nicosia. The city were a strategic pawn in the Templars' control of Cyprus, supplying them with metal for their weapons within the street-gang. The governor of Nicosia, Markos Demetris, aided the Templar Order on the condition that Giannopoulos would serve as his body-guard – because of his criminal record, Demetris were a man many wished to see dead. Doing so, Giannopoulos and the Templar Order gained power on Cyprus.
After the fall of Stavros in 1734, the Greek Assassins Maria Nomiki and Sofia Sanna established an Assassin guild in the city of Kyrenia. Soon afterwards, the Greek Assassin Stylianos were sent to kill Giannopoulos. Learning of Giannopoulos' position as body-guard of the governor, the Assassin began looking into the governor's history – learning of his crimes. Stylianos also now knew that governor Demetris was the one who had ordered the burning of his family's farm as a boy. Finding them both in Demetris' office, Stylianos soon fought them off and killed them both.
By killing Giannopoulos and governor Demetris, the Cypriote Templars' lost their control of the strategic city of Nicosia – shortening their seige of Cyprus. Without control of it, the Templars could no longer obtain metal for their armies.
Community content is available under
CC-BY-SA
unless otherwise noted.