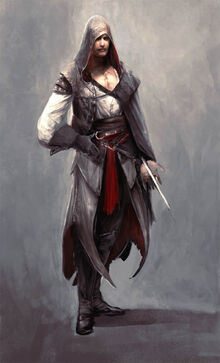 An Unnamed Italian Assassin was active during the 17th century.
As said by him, he was trained by his grandfather to become an Assassin and turned 18, was induced in the Italian Brotherhood. In July 1647, the Assassin was instructed by the Council to infiltrate the city of Naples, which had been isolated from the Templars and find out what he wanted to do. The Assassin infiltrated the city through the underground tunnels and began to investigate what was happening in the city. The Assassin discovered that an anti-Spanish revolt had broken out and the rebels were led by a certain Masaniello. The Assassin saved a man named Giovanni Gaudio, who was investigating the shady actions of Egidio Colonna. With the help of Giovanni, the Assassin tracked down Colonna and killed him discovering that the Templars had isolated the city to recover a piece of Eden through their English agent. Together with Giovanni, the Assassin intercepted and confronted the Templar agent, managing to defeat him outside Naples and recovered the piece of Eden. The Assassin took Giovanni away from Naples and later asked him if he wanted to join the Brotherhood, and Giovanni accepted.
In 2018, an his ancestor relived his memories on behalf of the Project Omega.