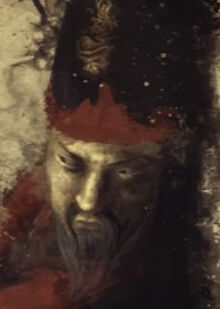 Jia Wong (Unknown – 60 BCE) was a Chinese Templar ally operating in Lianyungang during the Han dynasty, under the supervision of Chinese Grand Master Na Lin.
Wong's origin is unknown, but he most likely came from a fishing family – being born in the outskirts of Lianyungang. At some point, he became the husband of Ming Wong, a fisher who also lived in the outskirts of Lianyungang. Jia and Ming later had two children: Wei Yan and Bai.
However, in his position as a fisherman, he served under the leader of his land: Yijun Tang. Tang's rights gave him permission to comming to Jia's estate, which he did around 60 BCE. He had intentions of raping Ming, but when he discovered her ties to the Templars, he began fighting with her – since he was an Assassin. Ming were difficult to fight however, and Yijun were scarred by her scratching him over his chin. He grabbed a knife however and sliced her throat. After her death, Yijun attacked Jia – killing him too by smashing his head into the wall of the house several times.
Community content is available under
CC-BY-SA
unless otherwise noted.