This article is about the Swedish Templar. You may be looking for the Norwegian Assassin. 

"Blood, blood, blood!"
―Tanja during the Women's March, 1789
Tanja Ljungborg
was a
Swedish
Master
Templar
operating in
Paris
during the
French Revolution
as a spy for the
Parisian Rite of the Templar Order
. This little act, created connection between the Parisian and the
Swedish Rite
.
Biography Edit
Early life Edit
Tanja was born and raised in the city of Stockholm, Sweden by wealthy merchants. Her parents were loyal Templars, and when they gave birth to Tanja, she was destined to join the Templar ranks. When Tanja became of age, she did so. Being recruited into their fold, Tanja served as a duelist. Her knowledge about the Templars' history also came in hand later, and she was positioned in Gothenburg to translate older texts. This increased her own knowledge – but also giving her a radicalizing point of view after translating Codex Pater Intellectus.
After translating the book written by the last official Templar Grand Master Jacques de Molay, Tanja delivered it to the Swedish Grand Master. She thought that Tanja had been wise to translate it – and she made Tanja a Master Templar.
French Revolution Edit
Relocation in France Edit
At the outbreak of the French Revolution, the Swedish Grand Master was given a letter from a countess asking for her services. The aristocrat supported a radicalized group of Templars, and wanted to spread it. The Grand Master decided that Tanja had to take the choice herself, but stated that it would be a great opportunity to learn more about the new way of thinking. Tanja decided to leave Sweden for France, living in the heart of the radicalized Templar Order.
Spying on Méricourt Edit
In revolutionary Paris, Tanja was told to join Théroigne de Méricourt on her missions in liberating Paris from royalists. Tanja's first mission was to participate in a mob that marched to Versailles and turn it into violence when it met the King and Queen. For not being suspected however, Tanja had given order for the Luxembourg fighters to attack her, too. She failed turning the mob for blood however, but she reported exactley what had happened, to the Templars of Paris. She soon learned that Méricourt was an ally of the Assassins, and Tanja was by her side when she asked for help from the Brotherhood. Tanja informed diverse Templars disguised as normal citizens to kill the Assassin.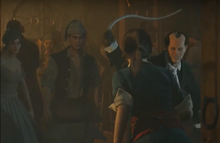 When Méricourt found out of Tanja's allegiance to the Templars, she threw her away. They were supposed to be at a meeting that declared the rights of women – but that would never happen. Tanja decided to warn a Jacobin however. He met up – with Tanja disguised as a normal woman – and used a whip to make Méricourt silencing her wishes for rights of women. When the Jacobin whipped Méricourt the first time, Tanja and another Templar ran up to Méricourt and held her up to a wooden pillar while the Jacobin whipped her further.
At the end of the Reign of Terror, Méricourt and an army of civilians, stormed the Jacobin hideout. With the help of the Assassin Arno Dorian, Méricourt managed to eliminate the remaining members of the Jacobin Club. Tanja was one of these victims – eliminated in the catacombs alongside the Jacobin that whipped Méricourt.
Ljungborg means "heather castle" in Swedish.
Tanja share her date of birth with Méricourt
Community content is available under
CC-BY-SA
unless otherwise noted.