"Denying an event that actually happened is useless when you're talking to someone who witnessed that event first hand."
―Vivian debating a Holocaust denier, November 1964.
Vivian Camille Cadieux-Foden

Vivian Camille Cadieux-Foden,
Second in Command of the French Brotherhood of Assassins
c. March 1962
Art done by SophiaEA16 on Twitter
Biographical information
Born

February 19th, 1921
Amsterdam, Netherlands

Died

October 27th, 2014
Manchester, England

Political information
Affiliations

Assassins

British Brotherhood (1939-1945)
Parisian Brotherhood (1946-1954)
French Brotherhood (1954-1986)

Politics

Labour Party (UK) (1955-1991)

Real-world information
Appears in

Breach of the Dorian Family Crypt

Actor

Val Sweeting
Vivian Camille Cadieux-Foden (1921 - 2014) also known by her nickname The Raven, as well as the Ungeziefer des Westens (Vermin of the West) in East Berlin/Germany, and Josep Avarand after she escaped Auschwitz until she returned to Paris in 1944, was a Franco-Dutch Master Assassin of the British, Parisian, and French Brotherhoods of Assassins from 1939-1986, being a part of Isabelle Allard's Council, serving as her right-hand woman and advisor from 1954 until Isabelle stepped down as Mentor in 1983. Vivian would serve as Mentor of the French Assassins for three  years until her own retirement in 1986, where the Assassin Brotherhood was taken over by the sole leadership of the Mentor. She would also enjoy a career in politics, being a member of the Labour Party, and was elected and re-elected out of Manchester Central twice over her career, which began in 1983. Vivian is descended from a line of Assassins, that of which Herve Quemar came from, which was on her mother's side. She is of French, Austrian, Dutch, and German descent.
During her time in West Berlin, she went by her middle name, being known as Camille Cadieux, under the guise of being Vivian's distant cousin to keep her identity a secret.
Early Years
[
]
Vivian Camille Cadieux was born on February 19th, 1921 in Amsterdam to Michel Cadieux, a French shipbuilder and his wife Marianne, who was of Dutch descent as well as a stay at home mom, who looked after her daughter while her husband worked. Unbeknownst to Vivian, both her parents were former members of the Parisian Brotherhood of Assassins. Vivian and her parents would move around Europe, living briefly in German cities such as Dortmund and Bremen before settling down in Paris in 1925 when Vivian was four. Vivian's mother would give birth to her two brothers, named Eric and Adam, in 1924 and 1926 respectively. When she was five, she enrolled in school, and Vivian would meet a young girl with black hair named Isabelle Allard. Vivian and Isabelle would strike up a friendship, helping each other with their schoolwork and going to each other's places after school, where Isabelle would eventually find out eight years later that Vivian and her family were Assassins. This would spring into an avid friendship between the two Assassin families. Vivian and Isabelle would be in the same classes each year, with Vivian graduating high school when she was only 17. In her teens, she was known for being a pickpocket at times, a skill unbeknownst to her that she would later use greatly as an Assassin.
Discovering the Assassin Order and Early Assassin Years
[
]
When she was eleven, Vivian caught wind of several correspondences from Parisian and British Master Assassins such as Vienna Victoria Dorian and Alexandra Dorian, as well as texts written by Alana Rose Dorian and Herve Quemar in her father's study. Reading through the texts, she learned about the secret Assassin-Templar War, the heroic acts of the Assassins and  the atrocities committed by the Templar Order during the Great War. Her father caught wind of her snooping around his office. Instead of scolding his daughter, he gave Vivian the choice if she wanted to become an Assassin. Vivian told her father that she wanted to pursue the life of an Assassin. After telling his daughter that training would require hard work and perseverance, he decided to educate his daughter and train her in the theory aspect of the Brotherhood while her mother agreed to train her in the ways of combat in the cellar of their home and would climb and freerun across the Parisian rooftops at night under the cover of darkness. At the time, Isabelle was also training, and the two young women would often get trained by Alexandra and Vivian's parents. Vivian would earn her Master Assassin Rank at the age of 18 in 1939, the same year Isabelle received hers. Both women received their hidden blades in the same ceremony. In March of 1939, Vivian would go to Lyon to begin studying law, but immediately returned to Paris on the verge of the Nazi Invasion of France.
Master Assassin
[
]
Vivian's first pivotal role as a Master Assassin was to assist Isabelle in hunting Stefan Klein, the German Templar Grand Master who was responsible for the murder of her mother. Vivian returned to Paris to hear the news that the Nazis had launched an invasion of France in June of 1940. Vivian had a tough choice ahead of her: Help her best friend avenge her mother's death or move with her family to Switzerland to avoid persecution due to their mother's Jewish ancestry. She made the decision to travel with Isabelle to England, and maintain correspondence with them as they went on their journeys. Quickly parting ways with her mother, father, and brothers, Vivian ran through the streets of Paris, looking for a way out. She saw Isabelle getting into a vehicle and quickly approached, to which Isabelle let her in. The pair drove out of Paris and made the lengthy trek to Dunkirk, half of which was on foot. Vivian and Isabelle both managed to evade capture and gunfire within the city from both sides as the two women made their way onto the ship, carrying them out of occupied Belgium and on to England.
Arriving in Portsmouth, Vivian and Isabelle travelled to London, where they met up with British Mentor Lydia Frye. Lydia was curious as to who Vivian was. Vivian informed Lydia of who she was, and that she should know who her parents were. Lydia informed Vivian that there could possibly be an associate of Stefan Klein's down the road in Manchester, and that Vivian should speak with one of her associates in the city for further information, and that if she succeeds to let her and Isabelle know. Vivian agreed to go to Manchester, with the chance of possibly eliminating a member of Klein's inner circle in England.
Life in Manchester
[
]
Arriving in Manchester in late August of 1940, she rented out a flat across from Old Trafford and invited Lydia's associate, Charles Ellsworth to her flat in order to discuss what they knew of the mysterious Templar lurking in Manchester. Charles informed Vivian that his name was Hans Wagner, a man with brown hair and blue eyes to go with a scar above his right eye, who was in Manchester to survey the Assassin presence within the city, and to keep tabs on a woman named Isabelle Allard, and kill her if necessary. Vivian promised to Charles that she would strike him down if she had the chance. Charles warned her that he blends in with the crowds of the city in order to survey the area he is in. Vivian would have to wait four months before she would get her chance at Wagner. While she waited, she would write letters to Isabelle, Lydia, and her family in Switzerland, keeping them up to date on her life in England.
In December of 1940, a day before Christmas, she exited her flat, and saw a man who looked like her target. Activating her Eagle Vision, the man who she thought was his target showed in gold. Once Hans caught wind of Vivian's presence, he immediately fled, shoving objects and people in her path before he made his way to the Manchester rooftops with Vivian in hot pursuit across the snow covered roof. Vivian would ultimately assassinate Hans Wagner, where she picked a letter off of him saying that their efforts have failed, and that they should concentrate maintaining their presences in Paris and the Soviet Union.
Returning from Manchester, Vivian informed Lydia of her successes and handed her the letter that she had assassinated Wagner, and that he would no longer be a threat. Lydia was pleased with her successes and informed her that Klein had his other two associates killed for alleged treason, and that the three Assassins will keep tabs on the scenarios developing in allied and occupied countries while they lay low.
Isabelle's Journey to Stalingrad
[
]
On August 15th, 1942, Vivian returned to Lydia Frye's flat to see that she was relatively distraught with something. When she asked what was wrong, Lydia informed the young Master Assassin that Isabelle had disavowed her and went after the German Grand Master in Stalingrad. Vivian disapproved of her friend's actions, and asked Lydia for permission to make leave for Switzerland once Isabelle returned from her adventure in Stalingrad. While they waited for Isabelle, Vivian would receive the telegrams sent from Assassins stationed in London, much to Lydia's pleasure. Vivian would also receive a telegram from her, saying that she had to cut off her ring finger aboard a merchant ship onto where she was now, Istanbul. She would receive another from Isabelle in Lisbon, where the ship she was on was getting repairs, and that she would be back soon. She gave the telegrams to Lydia, who was displeased. Once Isabelle returned from Stalingrad with a missing ring finger, Vivian witnessed the argument between the two women, where Isabelle had to withdraw from all Assassin-related activities for a year. Vivian put her trip back to Switzerland on hold to spend time with Isabelle, with the two women who would continue their studies in their respective fields for the year of Isabelle's punishment. Vivian told her that she had to give Lydia every telegram she received as a part of her duties. Despite being a little annoyed with her friend, Isabelle understood. Once her punishment was up, she informed Isabelle that she was visiting her family and that she should meet her there if she is able, asking Lydia for permission first. Her request was approved by Lydia, and she set out for Switzerland.
Time in Auschwitz
[
]
Meeting up with her brother Eric in southern Poland in April 1944,  they were captured by a squadron of Nazi soldiers and arrested. Both of them were given yellow Stars of David and loaded onto a train car to Auschwitz, a concentration/death camp in Poland. Upon arriving at Auschwitz, Vivian and her brother were stripped of their belongings and clothing, and given striped jumpsuits. Lining up, Eric was separated to the men's quarters, with Vivian going to the women's quarters. Vivian's long hair was lobbed off upon her arrival and shaved, and was ordered to perform hard labour, where Nazi guards abused the women digging open graves. Vivian witnessed camp guards execute women who weren't working hard enough in cold blood. The barracks were like shelving units, and Vivian often complained of a sore back whenever she slept, and the latrines were right in front of their beds, so the barracks smelled like human waste. Vivian also battled dysentery shortly before her escape and recovered as she traveled to Danzig and later Paris.
During her stay, Vivian was also used for medical examinations. Vivian was stripped naked, and had her body examined by Nazi doctors from time to time. Her eyes, nose, mouth, and genitals were examined for genetic purposes. Vivian was also subject to standing out in the cold for several hours to see how her unclothed body would react to the cold, before being clothed again and returned to her quarters. Vivian would later say that the tests strengthened her resistance to the cold.
Vivian was also the victim of several verbal and physical assaults when she performed hard labour for over ten hours a day. She was also sexually assaulted by the doctors at the camp, when the doctors grabbed her breasts, genitals and buttocks without her consent during an examination of her body because they wanted to see how the regions 'developed on a Jewish woman', and even beat her during these examinations. The events would traumatize Vivian, speaking of it to only Isabelle and her future husband, Jon. It was during these examinations that she would have a brief encounter with Josef Mengele.
On July 9th, Vivian was forcibly taken out of her quarters by two SS guards. Dragging her feet along the ground, Vivian was forced to watch her brother be stripped of his clothes and ushered into a gas chamber and gassed in front of Vivian. Vivian screamed out his name and tried to resist the guards, but was immediately silenced with a beating and returned to her barracks.
On the morning of July 15th, Vivian overheard some Polish prisoners plotting an escape over the night. Later in the evening, Vivian met up with the group of Poles who were looking to escape. Vivian wasn't fond of their plan, so she plotted a plan of her own. Feigning an injury, Vivan managed to attract the attention of a guard who came to see what was wrong. Arriving at her bed, Vivian stealthily killed him and stole his uniform. Vivian placed him in her bed as she walked out of the women's barracks and out of the camp under the cover of darkness, where she would meet up with Elizabeth Baudin a few miles away from the camp. Vivian and Elizabeth traveled to Danzig, where Elizabeth provided her with a safe passage from the city and reunite with Isabelle in Paris on August 5th, disguising herself as a man going by the name of Josep Avarand. Elizabeth also provided Vivian with paperwork and a false passport bearing her disguised name on it.
Vivian would speak of the horrors she witnessed to only a select few. Isabelle stated that Vivian was so malnourished that she could see Vivian's cheekbones and ribs. She would later return to Auschwitz and play a pivotal role in the Liberation of Auschwitz on January 27th, 1945, and in the aftermath recovered her and her brother's glasses, after three hours of looking. Isabelle would later commission a local metalworker to craft Vivian a new Hidden Blade to commemorate her bravery, and Vivian would wear it until her retirement in 1986. After getting her hair shaved off upon her arrival at Auschwitz, it took ten years for Vivian's long brown hair to return to its original length.
Vivian would later express regret over attempting to meet up with her brother and family during the war, saying that 'had she not gone to meet up with her brother, he may still be with us today.'
Return to Paris
[
]
After a three-week journey across Poland disguised as a man, her disguised name being Josep Avarand, Vivian finally made it to Paris from Danzig on August 5th. Walking through the streets, Vivian was disgusted with all the red and swastikas of Nazi Germany hanging around the city. Luckily for Vivian, her home was intact. Walking in, Vivian immediately removed her disguise and moved her whole headquarters to the cellar, where she had trained growing up. She tinkered around with her father's telecommunication line to get it up and running, and would often hack into Nazi lines while remaining incognito as to who it was behind the scenes. Isabelle reunited with Vivian, who was happy to see that her best friend had survived the horrors of Auschwitz. A few days later, Vivan informed Isabelle that Stefan Klein was in Paris to inform Dietrich von Choltitz of Hitler's orders to burn the city to the ground. Isabelle informed Vivian that she would meet up with Captain Dronne to ascertain his location. Vivian waited patiently for her friend to return, watching the Eiffel Tower in the distance from the roof of her house. Her hopes went up to see someone leap from the tower and activate a parachute. A few moments later, Isabelle came back with a gash on her forehead, her face covered in blood and a shard of bloody glass in her hand, which was bleeding also. Noticing that she was fading from exhaustion, Vivian immediately took Isabelle to her bed and stitched up her wound, allowing her friend to rest. While Isabelle was resting, she intercepted a telegram stating that von Choltitz was located at the Hotel Majestic. Vivian printed off the telegram and tucked it under Isabelle's pillow for when she woke up in the morning. Isabelle was gone in the morning, but returned with the news that von Choltitz had  signed the surrender, and that Paris had been liberated from Nazi rule. Unbeknownst to Vivian, her younger brother would start to become annoyed with her and harass her with numerous telegrams for failing to save Eric when they were incarcerated in Auschwitz.
A year later, Vivian received a telegram from Lydia, which stated that Isabelle was told to travel to Berlin to meet up with Soviet Commander Cassandra Andropova for a special mission. Deciding that she didn't want to hamper Isabelle on this mission, she left Paris, knowing that Isabelle was going to return and tell Lydia about the mission. Packing up her telegraph, she made her way to Portsmouth and rented out a hotel, setting up inside. A month later, she received a telegram from Berlin. It was Isabelle, stating that her mission was to assassinate Adolf Hitler, and she succeeded, also saying that she was returning to England. Eagerly awaiting her best friend's arrival, Vivian was the first person on the dock, giving Isabelle a tight side hug. Isabelle retaliated with one of her own, nearly knocking off Vivian's glasses. The two later went to a pub to celebrate Isabelle's success before returning to London the next day to witness the speech from Prime Minister Winston Churchill. After the announcement, Isabelle gathered everyone in the basement of Lydia's flat to reveal that when she assassinated Hitler, she took his Apple of Eden for the Assassins. Lydia would allow Vivian to study the Apple for a couple of years, before Lydia requested it back to study it for herself. Alongside Isabelle, Vivian was awarded the Order of Legion d'Honneur by Charles de Gaulle upon her return from London to Paris, for the role she played in the liberation of the city. Upon her family's return from Bern, Vivian helped her family renovate their home and help them settle down. A few months later, Vivian and Adam would get into a fight, which started with words, which led to raised voices, and ultimately led to a physical altercation where Isabelle and their elderly parents had to separate them. Adam stormed out of the house, berating Vivian as he did so. Vivian would get emotional and cry on the couch, apologizing to her parents for not being there for Adam when he needed her. Vivian's parents forgave their daughter, and told her that Adam would eventually come around.
In April of 1949, while Vivian was out practicing parkour. Leaping down from a ten foot roof, Vivian landed awkwardly, snapping her fibula and tibia in the process. Vivian looked at her right leg. Bone and muscle were hanging out of the back of her leg. Acting quickly, Vivian managed to set her bones into place and managed to craft a splint with two wooden boards and rope. She called a passerby to call for an ambulance. Eventually getting one, Vivian was taken to hospital where she had her leg operated on and fixed. After her operation, Vivian was forced out of all Assassin activities for a year as a result of her injury. She would wear a shin guard on her right leg for the rest of her career as an Assassin.
Post-War Years
[
]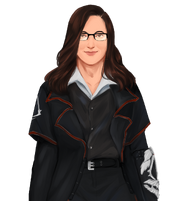 After the war came to a close in August of 1945, Vivian informed Isabelle that she was returning to Paris with her, to help the people of Paris get back onto their feet in the post-war years. She also helped with the recruitment of three more fellow Master Assassins into the Brotherhood, those being Irina McCall, their archivist and banker from Leeds, Isabelle's husband Xavier Andreu, who served as a correspondent/diplomat, as well as Diane Laurent from Lyon, who served as the Brotherhood's tech specialist.
When Isabelle was appointed Mentor of the Parisian Brotherhood in 1954 after Olivier Abadie's death, Isabelle chose Vivian to become her second in command. Many conservative Assassins criticized Abadie's decision to appoint Isabelle as leader, saying that a woman shouldn't lead the Assassins. Once Isabelle asked if they could see it from her side, they abruptly left the Brotherhood. Under Isabelle's leadership, the Brotherhood flourished. It was rechristened as the French Brotherhood of Assassins, and brought the Assassin Headquarters underneath the former Cafe Theatre up to modern standards. Both Vivian and Isabelle would give interviews to the French press about the renovation during the various stages. The French Brotherhood forged alliances with the likes of Charles de Gaulle, Lydia Frye of the British Assassins, and Elizabeth Baudin of the West German Brotherhood, and Brendan Oliver of the rechristened Canadian Assassins. The Brotherhood under Isabelle would also keep their tabs on the activities of Abstergo Industries, the corporate front of the Templar Order. Both Vivian and Isabelle participated in the safe landings of food and key supplies to the city of Berlin. Disgusted by Stalin's action of putting a blockade around the city of Berlin, which cut off the Western Allies' supply lines to the city. Vivian and Isabelle met up with Lydia Frye and Elizabeth Baudin to help distribute supplies among the war torn city at the Tempelhof Airport, helping the people get back onto their feet. Vivian and Isabelle would return to France in May of 1949 once the blockade was lifted and monitor the developing tension between the United States and the Soviet Union from Paris until the tension grew to such an extent that Vivian and Isabelle traveled back to Berlin at the behest of Elizabeth Baudin in October 1961.
Meeting up with Elizabeth Baudin once more a few days after their arrival, Vivian and Isabelle were caught in the middle of a Soviet-American tank standoff at Checkpoint Charlie, pleading with the two tank commanders to stand down, or else everyone would be annihilated. Isabelle and Elizabeth went over to plead with the Soviets, while Vivian tried to plead with the Americans. Vivian's way with words didn't help her as she had an American tank gun pointed a foot away from her face. Vivian stood defiantly in front of the gun, only to be moved out of the way by Elizabeth. In a way, their pleading for the tanks to back away helped, as Soviet leader Khrushchev and US President John F. Kennedy agreed to back up their tanks slowly, bringing the tension to a close. Later on in the year in December of 1961, Vivian would speak in front of the United Nations in New York City, urging the countries of the world to unite and come up with a logical solution to eradicate world poverty while chastising countries such as United States and Canada for not even caring enough for the starving people in the world let alone their own countries, closing her speech saying that 'there is more than enough food in the world to feed every family in the world, so stop being greedy and share it with your fellow man.'
Vivian would return to the UN in New York City in September of 1962 to speak on the heightening tension between the Soviet Union, the United States, and their allies, letting the United Nations General Assembly know in a fiery speech that 'If a solution for peace isn't found between the two countries and war is the outcome, neither country will be the victim. The world will be.' The Cuban Missile Crisis would begin one month later, plunging the world into the possibility of nuclear war. Vivian's speeches in front of the General Assembly were met with praise and adulation, calling her the 'best speaker they've had grace their halls', and even earning praise from Argentine revolutionary Che Guevara. Vivian's expertise in the field of law would lead to her appointment as the Dutch judge on the International Court of Justice, moving her family from Paris to The Hague in her native Netherlands for her term, which began in 1971 and lasted until 1980. She was known for being a judge on the United States vs Iran case pertaining to the Iran Hostage Crisis. Upon her return to Paris, she would continue to practice law at her law firm Cadieux & Associates.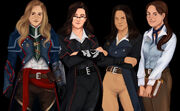 Career as a Nazi Hunter
[
]
Vivian was aware that there were still Nazis that were still in hiding. She met up with the Israeli spy agency Mossad and their leader Isser Harel in Israel in 1959, who informed her that there were several Nazis she could go after, such as Adolf Eichmann, Josef Mengele, and Klaus von Heretz, the doctor who sexually assaulted her at Auschwitz, and that there were rumors that they were living in Argentina. Harel wished for Vivian to travel to Argentina with her family and Mossad agents to track them down. Vivian agreed, and informed Isabelle of her decision to travel to Buenos Aires. Isabelle was okay with it, as long as she was informed of Vivian's progress. After a three day flight, Vivian and her family arrived in the Argentine capital in April of 1960, settling on a farm on the outskirts of the city, all while keeping an eye out for Eichmann and von Heretz.
Vivian and the Mossad agents caught wind of the presence of Eichmann, and began tracing his daily routine. On May 11th, 1960, Vivian and the agents waited for Eichmann, as he was half an hour late arriving to his bus stop. As he left, Vivian and the agents approached him, and one of them asked him in Spanish if he had a moment. He attempted to flee, but was restrained by Vivian and two other agents, forcing him into a car and taking him to a Mossad safehouse, where he was interrogated and his identity confirmed. It was on a letter in Eichmann's possession that she learned that Klaus von Heretz was in Buenos Aires as a doctor. Vivian continued to work on the farm until a Mossad agent informed her that they had a beat on von Heretz's location.
Vivian found out that he lived in a high-rise apartment in the heart of the city. She traveled into the city, dressed in black pants, a white dress shirt, and a shawl to go with a sunhat. Vivian made her way into the hotel, asking for von Heretz's room number so she could speak to him, where he was in Room 1239. She took the elevator to the twelfth floor of the hotel and approached the room and knocked. Klaus answered the door, only to be greeted by Vivian's Hidden Blade, where the two grappled until Vivian and Klaus walked out onto the twelfth floor balcony, where Klaus attempted to flip her over to her certain death. Vivian managed to get her shot, assassinating the former doctor. He squirmed and accidentally fell off of the balcony, falling to his sure death. Vivian quietly made her leave from the apartment and back to the farm, where she informed Mossad agents that Klaus von Heretz was dead. A week later, Vivian flew back to Paris to inform Isabelle of her successes before returning to Manchester.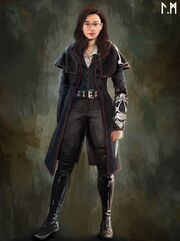 Breach of the Dorian Family Crypt
[
]
On December 19th, 1966 Vivian and Isabelle were informed by Diane Laurent that the Dorian Family Crypt had been breached, and that they were looking to procure a sample of Alana Rose Dorian's DNA. Vivian and Isabelle rushed over to Pere Lachaise and entered the crypt, which began a long skirmish between the agents and Assassins began. One agent diverted Isabelle away from Vivian. Vivian fought valiantly, but was no match for the two agents, who bound her in handcuffs. The agents brutally assaulted Vivian, landing several shots to her gut, back, and face. Vivian hurt her lower back as she was thrown into two pillars. The agents threw Vivian to the ground, cutting her forehead open, as well as breaking her glasses and snapping her left fibula and tibia in two. An agent placed their foot on Vivian's neck, as they threatened Isabelle by saying if she engaged them, Vivian would be killed. She let them by first before engaging them. They easily dispatched of Isabelle before leaving. Isabelle and Vivian were unsuccessful in stopping the agents, but dedicated their time afterwards returning the crypt to its former glory.
Cold War
[
]
Assisting East German Defectors
[
]
Vivian later found out that the Soviets had begun to build a wall to prevent their citizens from crossing into West Berlin, which disgusted both Vivian and Isabelle, with Vivian stating that it 'hampered on the human rights of the people of Berlin', Both women moved their families into a small house belonging to West German Mentor Elizabeth Baudin and her husband Pierce Bythesea a few kilometres away from the wall in West Berlin. Under the guise of her middle name Camille, Vivian and Isabelle were known for helping several families cross into West Berlin between August 1967 and September 1969 by way of extremely deep tunnels dug under the basement of an East German bakery. Vivian asked the original digger of the tunnel to use it, with him telling her that there are countless families already waiting to cross. Navigating their way back and forth between West and East Berlin, Vivian and Isabelle guided several families through the tunnel, avoiding the eyes of the Stasi, the secret East German Police, who were actively looking for both women because they were wanted criminals in East Berlin due to their actions. Vivian and Isabelle were almost apprehended by the Stasi, but she managed to fend them off with help from Isabelle.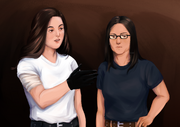 During this altercation, which was caused by Isabelle's uncharacteristic inaction, a Stasi officer shot Vivian in the right shoulder, effectively making Vivian's right arm useless, the force knocking her back into a lining of protective barbed wire, cutting into her flesh. Despite the setback and with blood on her right arm and shirt, Vivian evaded them the rest of the way and successfully got the family to safety on the other side, where her husband Jon and Elizabeth helped them relocate, an act they would do with each family. Elizabeth would remove the bullet from Vivian's shoulder and bandage up her wound. Vivian would recover from her injury over a month and a half, with help from Elizabeth tending to her injury and Isabelle taking over the safe passage of families under the Wall. Vivian would show her Mentor a new tunnel to use after lecturing her about what happened down in the first tunnel. After recovering from her injury for a month and a half,  Vivian would rejoin Isabelle and would continue to do this for several families, despite the constant threat of the Stasi above. From each family she refused payment. Instead of payment, she told each family that the best way of repaying her was to go to Elizabeth Baudin's residence and she will help them in finding someplace safe to live.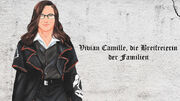 Her and Isabelle was responsible for the escape of 60 East Berlin families. Isabelle helped her friend liberate families, but wanted no credit for doing so. Once Vivian was finished in Berlin, her, along with Jon, her daughter Valerie, Elizabeth, Pierce, Isabelle and their familes left West Berlin. In 1970, two years after Vivian and Isabelle rescued their last family, in her honour, she had a portrait spray painted on the west side of the wall, which is inscribed with 'Vivian Camille, die Befreierin der Familien' which translates to 'Vivian Camille, the Liberator of Families', and is one of the few remaining pieces of the Berlin Wall standing. It was later disassembled and is now on display in Amsterdam. Isabelle would commend Vivian for her successes in liberating the defecting families. Vivian would later recall her time helping the families as the 'most harrowing, yet most rewarding time of her life.' In order to cope with stress, Vivian would start smoking. It was a habit that she would stop upon her return to France.
Other Activities
[
]
During their downtime in the 1960's, Vivian would do some traveling with her family across Europe, visiting places such as Florence, Rome, Venice, Tuscany and Istanbul over the years before journeying to the ruins of Masyaf castle, freerunning through the ruins in order to make it to Altair's sealed library, paying homage to the legendary Assassin. She would also pay homage to Bayek and Amunet at their tomb in the Hotep Cavern, discovering the tomb thanks to the documents belonging to her father. Upon her return to France, Vivian would continue to watch and monitor the ongoing tension between the Soviet Union and the United States.
Political Career
[
]
Ever since the end of World War II, Vivian developed a keen interest in left-wing politics, believing that the working class deserved to have more representation in English politics. This interest led Vivian to join the Labour Party in England in 1955. She was a member of their party until she was appointed to the International Court of Justice in 1971, which caused some tension in her friendship with Isabelle, who thought it wasn't a good idea for her to go. In the final year of Vivian's term on the International Court of Justice, Margaret Thatcher became Prime Minister of England, much to her disgust. Once her term was up, Vivian ran out of Manchester Central in Manchester and won her seat in parliament for the first time in 1983. Vivian was disgusted with how Thatcher ran the country. She criticized Thatcher's role in the Falklands conflict in 1982, her privatization of British industries, and her ruthless suppression of mine workers and their unions in 1984. She was re-elected in 1987. In 1989, Vivian demanded that Thatcher and her government launch an inquiry into what happened during the Hillsborough Disaster and deliver the results immediately. An inquiry was revealed, and Vivian was shocked to see that it was a lack of police control. She would work closely with the families who lost loved ones during the disaster. Vivian was appalled by an article written by The Sun, which blamed rowdy Liverpool supporters for the whole disaster and was disappointed with the effort put into it, She would also play a role in getting it banned from stadiums Anfield and Goodison Park. Vivian would retire from politics in 1991, but still continue to voice her opinions on how the Tories were running the country, while continuing to take verbal jabs from time to time at Thatcher, who called Vivian a 'socialist devil' until her passing in 2013.
Even Queen Elizabeth II, the reigning Queen of England, had a severe disdain for Vivian and the French Brotherhood, calling her and other Assassins around the world 'scourges of society' as well as calling them 'anarchists' over the course of her many years in power. Vivian wasn't phased by the monarch's comments, saying that it was an honor to be hated by both the Queen and Margaret Thatcher.
Later Years and the Great Purge
[
]
In 1983, shortly after Lydia Frye's death, Isabelle stepped down from her post as Mentor of the French Assassins, handing over control of the Assassins to Vivian for three years. As Mentor, Vivian was merely a guardian as she did not have enough time to radically change the French Assassins in any way as all Brotherhoods were taken over by a sole Mentor. Disagreeing with this, Vivian and Isabelle retired from the Assassin Order in protest in 1986. She would return to Manchester to focus on her political career. Four years after her retirement, Vivian and Isabelle hugged each other in the same way when Isabelle arrived in Portsmouth back in 1945 in front of Vivian's portrait. Tearing down the wall, they left her portrait up as the people respected her work over the years. Vivian and Isabelle walked through Checkpoint Charlie and danced with the people to celebrate the reunion of East and West Germans. Vivian told Isabelle that night that 'all her hard work and sacrifice had paid off', which earned her another hug from her best friend. After the celebration, Vivian and Isabelle returned to Manchester and Paris respectively, where Vivian would continue her career in politics.
Vivian and Isabelle both were gifted blueprints on a machine being developed by Abstergo Industries which was called the Animus, by the German Brotherhood of Assassins in 1990 for the role they played in helping restore Germany, and were told to study them and build one at your own risk. Vivian never built her Animus.
In November of 2000, The Mentor was struck down in Dubai by Daniel Cross, a Templar sleeper agent who managed to infiltrate his room. While there, he revealed all the Assassin cells throughout the world and initiated a purge, which nearly wiped out all active Assassins. Valerie, the only child Vivian trained to be a Master Assassin, moved Vivian out to a senior care home just outside of the city in Wigan while Jon maintained their home. Vivian would live in the care home for four years under the guise of 'Michelle Aurier' to avoid suspicion, even letting her hair to go grey in order to keep the guise up. She would also maintain correspondence with Isabelle, her children, and her brother as well. In 2004, Vivian would return to her home, aged eighty-three. Her days outside the home were relatively quiet, and left the house only when she had to, spending them watching football or knitting. On December 22nd, 2013, her best friend Isabelle Allard passed away in her sleep. Upon receiving the news, Vivian fell into a brief spell of depression. During this depression, she would have a minor stroke. She would pass away in her sleep ten months later in the Manchester Royal Infirmary on October 27th, 2014, due to complications from her stroke. Vivian was 93 years old. She was buried in St. Joseph's Cemetery in Manchester with her Hidden Blade alongside her husband, who had died a year prior. The day after Vivian was cremated and buried, a magpie was seen on her gravestone, which led to family members believing that Isabelle was visiting her friend and welcoming her to death's realm. A similar story happened with Isabelle, because when she was interred into the Dorian Family Crypt at Pere Lachaise Cemetery in 2013, a raven landed on top of the crypt, standing guard. People took it as Vivian paying one last visit to her best friend.
Weaponry and Talents
[
]
Vivian was an exceptionally talented Master Assassin and used only two weapons at her disposal, which were her double Hidden Blades and her pistol, which was a military grade pistol she took off of a dead Parisian resistance soldier and held onto it ever since, buying rounds of ammunition only when she needed to. She also used smoke bombs depending on the scenarios as well.
Vivian was an incredibly gifted climber and freerunner, using her talents to scale buildings, run across and leap over gaps between rooftops, and even under the Berlin Wall in the tunnel she used her skills to descend safely into the tunnel and help others down.
As an Assassin, Vivian excelled at blending in with the crowds, often disappearing from sight rather quickly. There would be times where she would move ahead of her husband and he would lose sight of her, only for her to turn up a short while later.
Vivian was quite the avid researcher, providing fellow Assassins with research that would be pivotal to their goals. Her most cherished work is on Hitler's Apple of Eden, where she wrote about the history of the pieces and the abilities it can conjure. Modern Day Assassin Shaun Hastings was heavily inspired by Vivian's tactical work, even having her name jotted down among his notes as a hero of his, citing that Vivian was 'one of, if not the most gifted Assassin of her time.'
Vivian also learned how to operate a telegraph machine, a skill she learned from her mother. With lots of experience, Vivian was able to intercept pivotal telegrams during World War II and relay them to those who needed them the most, without those who sent them knowing who intercepted them. Mostly the telegrams went to the British and French Assassins, as well as Isabelle, who relied on Vivian to intercept telegrams from Stefan Klein in order to gain his whereabouts.
Personal Life
[
]
Growing up, Vivian was known for being very outgoing and happy, and had tremendous speaking skills, with her father even describing her speaking skills of that of a 'fiery orator who is capable of getting her words across to anyone.' At times, even Lydia and Isabelle were taken aback at how persuasive Vivian was with her words. While she was growing up, Vivian was more of a tomboy, where she refused to play dress up and dolls, but rather got into fights at school with her and Isabelle taking on groups of boys in the park after school who picked on them by saying that girls couldn't fight. She got into a fight when she was eight and got punched in the eye. Her black eye healed over time, but her vision didn't which resulted in her vision going blurry in her left eye, resulting in her wearing an eyepatch for a few weeks after the fight. She was forced to get glasses that she would wear for the rest of her life, which improved her vision tremendously. At home she was much different. She would help her mother look after her brothers and help her with odd jobs around the house such as cleaning, harvesting vegetables from the garden, and delivering important letters.
Vivian herself was a calm, caring, and mild-mannered individual in her youth, and carried on into her adulthood. Only when the circumstances called for it would Vivian show her angry side, where she would raise her voice to command the attention of everyone.
Due to her expertise with telegraph machines, Vivian would end up getting a job as a telecommunications worker in  Manchester while at university and as a lawyer in both Paris and in Manchester, after she earned her PhD in Law from the University of Manchester in 1949. Vivian was known for her cases against Abstergo Industries and her cases involving women who were falsely accused of crimes they did not commit. For the latter, Vivian was known for fiercely defending her female clients. Vivian's female clients were successful in proving their innocence with her defending them. In 1951, Vivian would form her own law firm, named Cadieux & Associates, which had locations in both Paris and Manchester, and Vivian would handle cases out of both locations respectively.
In 1959, Vivian, Irina, and Isabelle would travel to countries in Africa and provide food and water to several villages in Niger, Sudan, Ethiopia, and the Congo. The acts of humanitarianism earned them numerous awards, even earning recognition from the United Nations for their efforts on combatting poverty in Africa.
Vivian had a very close relationship with fellow Master Assassin Isabelle Allard. The two women met when they were girls back in 1926, and were inseparable from there. They would be in the same classes together and do their schoolwork together as well. They would even get into fights with other school children together. In 1934, once it was discovered that Isabelle's family descended from Assassins as well, Vivian begged her parents to train with her and Alexandra as well. The two families agreed, and trained their two daughters in the way of Assassins, who both earned their Master Assassin Ranks in the spring in 1939, just before the outbreak of World War II. Vivian assisted her best friend in her quest to hunt down the man responsible for her mother's death, Stefan Klein. Through Vivian's efficiency with intercepting telegrams, she helped Isabelle locate both Klein and von Choltitz and bring them both to justice. Upon Isabelle's assassination of Adolf Hitler, Vivian was the first to greet her, hugging her without saying a word because she had heard the news, and took her to a pub in Portsmouth to celebrate. Vivian would also take on Isabelle's duties while she was away during her military service. Upon being appointed Mentor in 1954, Isabelle designated Vivian as her second in command, and wouldn't go to a meeting without Vivian attending it also. Isabelle would cite Vivian as the 'sibling she never had'. They would become blood sisters through a pact in 1959. In the early 60's, on behalf of France, Vivian, Isabelle, and Xavier would travel to countries as Cuba, Canada, and China. She was praised by Fidel Castro on their visit to Cuba in early 1964 after pickpocketing a cigar from his pocket without him paying attention. He commended her on her superb stealth skills, and even lit the cigar for her. Mao Zedong, the leader of China, was even impressed with Vivian's linguistic skills even though he didn't agree with her beliefs.
Vivian was known for her dedication to training new initiates. Under Vivian, initiates learned how to engage in close quarter combat, which would be in the basement of Vivian's home, where Isabelle taught theory and free running at the renovated headquarters. After explaining a certain technique, Vivian would back away and watch the initiate perform, often crouching in a corner which was dubbed 'Vivian's Perch'. A section of the Stretford End in Old Trafford is also named after this in her honor. She would have a metal rod in her hand to point out where the initiate went wrong, and to correct their positioning and posture. Initiates often referred to the act of Vivian crouching as 'Vivian's Crouch'. Isabelle commended Vivian on her resiliency on never missing a training session, even coming in after putting in ten hour days at the office to oversee a training session. She would state that 'Vivian has a special kind of dedication that every Master Assassin should possess.'
Vivian was also close with her family and brothers growing up, spending a lot of time with her brothers growing up. Vivian was raised to practice the Jewish faith, receiving her bat mitzvah at the age of twelve. She wouldn't continue practicing the faith, due to her strong disillusion with religion in her late teens. Even during the events of World War II, Vivian would write to her family, who had relocated to Bern. Eric would leave Switzerland on a trip with Vivian during one of her visits, which led to their arrest. After WW2, Vivian would visit her parents from time to time, informing them of her life in Manchester and her career as a lawyer. Vivian would also be the one to bury her parents in Zorgvlied Cemetery in Amsterdam in 1972.
Tensions with Adam
[
]
Nearing the end of the war, Vivian was being harassed with telegrams from an unknown sender saying that they would threaten to expose her for not saving her brother from Auschwitz. Once the war was over, Vivian received another telegram with a rather misogynistic message attached to it, saying that she was a disgrace to the Jewish religion. She looked at the date and it came from within Paris, and that it came from her parent's place. Isabelle accompanied her to her parent's house, where her parents answered the door. Walking into the living room, she saw Adam at the telegram machine. Incensed, Vivian stormed over to him, asking him if he was responsible for harassing her with these telegrams. After a few moments of denial, Adam confessed to sending her the harassing telegrams, much to the shock of everyone. Adam unleashed all his rage towards Vivian, stating how she was an embarrassment to the family, how her wearing pants was disgraceful, and the fact that Vivian failed to save Eric while they were imprisoned in Auschwitz. Vivian, in tears, explained that she was dragged out of her cell and forced to watch him enter the gas chamber. Not believing her, Adam aggressively shoved his older sister away, sending her tumbling into Isabelle. Vivian quickly got up, but was separated from her brother by Isabelle and her parents. They couldn't stop Vivian, who managed to knock out her brother with a sharp right hand. He collapsed onto the couch. Vivian's parents were shocked to hear that Adam had been harassing his own sister. Vivian never thought that Adam would do such a thing and that she did not know that he was jealous of all her accomplishments. Her parents would say that he never showed any interest in helping her and Eric when they were imprisoned in Auschwitz after their arrest in Switzerland. Upon hearing that, Vivian informed her parents and Isabelle that she was going to move to Manchester to clear her mind, and would not visit Paris if Adam were still present within the city. After Vivian completed her move to Manchester, she was informed by her parents that he moved to Marseille, wanting nothing to do with her. Vivian was content with his decision. She would later call him 'the rotting root of the family tree', a statement she would later apologize for. He wouldn't attend her wedding in 1952 or even their parent's funerals in 1972. She would not reconcile with him until 1986, where she made a personal trip down to Marseille after her retirement, where he apologized to her for everything that had happened over the years. They would remain on good terms until Adam's death in 2009.
Burnout
[
]
During her career as a Master Assassin, Vivian would experience several instances of severe stress, known as 'burnout', where she would feel devoid of the motivation and inspiration she was known for having.  She would take a few years away from her duties as an Assassin to regain the inspiration and motivation, and always let Isabelle know when she was taking time off. Isabelle did bring up early retirement from the Order, in the thought of Vivian's long term health, but Vivian shot it down, telling her friend that 'they needed her help still, and that it was her duty to help them and the people.' The years Vivian would take off in order to tend to her burnout would be in 1958-60, and 1965-67.
Romantic Life
[
]
While living in Manchester, Vivian met a man named Jon Matthew Foden, a Jewish man who was a carpenter struggling to make ends meet in war-torn Manchester. Over the course of her time in Manchester, her and John would always meet up for a cup of coffee or a bite to eat every chance they got. Once she had to leave Manchester, Jon and Vivian exchanged letters and met up whenever they could. After the war, Vivian and Jon met back up with each other where he would propose to her in 1947 at Old Trafford and get married in 1952 during a small intimate ceremony in the backyard of Jon's flat. Isabelle was her maid of honor. Later on in the year, they had a Jewish wedding ceremony in the backyard of their flat. Once married in 1952, Vivian would relocate to Manchester, spending most of her time there. In 1946, Jon himself left carpentry behind and would go to the University of Manchester to study law, graduating in 1950. His first job would be at his wife's law firm. Jon would also tend to Vivian during her recovery from her broken leg in 1949 and 1950. Jon would help Vivian assist East Berlin citizens underneath the Berlin Wall while Elizabeth looked after their daughter back at her house. Vivian would give birth to one child. She would give birth to a daughter named Valerie Judith Cadieux-Foden on December 10th, 1955. In Valerie's youth, Vivian would coach her all-girls football team in Manchester. Vivian would train Valerie to become an Assassin, earning her rank of Master Assassin in 1978. Vivian would also be present for the birth of her grandchildren Jonathan and Jessica on September 18th, 1986. After her marriage in 1952, Vivian would settle down in Manchester with Jon, and live there until 2000, where she was moved into a senior's care home in Wigan, outside of Manchester, only moving back into her home with Jon in 2004.
Assassination Targets
[
]
Quotes
[
]
"Oh, to be hated by the most powerful woman in England. What an honor, hey?"
―Vivian reacting to Queen Elizabeth's comments about her, March 1967.
"I've broken both my legs in the same spot, and can still free run gracefully. What is your excuse? Try again."
―Vivian questioning an initiate's supposed injury, November 1969.
"The War between Assassin and Templar will continue to dance the dance of eternity."
―Vivian on the Assassin-Templar War, March, 1959.
Trivia
[
]
Her first name, Vivian, is Latin for the word 'lively'. Her last name, Cadieux, is French for 'little fighter'. Her name literally means 'lively little fighter'. Her married name - Vivian Cadieux-Foden, means 'lively little fighter of Odin.'
She had a nickname as well, it was 'Vivvy' and Isabelle would call her it every time Vivian called her 'Izzy'.
Vivian is left handed.
Vivian was an avid supporter of Manchester United and AFC Ajax. A section in the upper part of the Stretford End in Old Trafford where she would sit in the early 90's would be named 'The Raven's Perch' in her honor. This is the same in the Johan Cruyff Arena in Amsterdam.
Vivian is the godmother of Isabelle's daughter, Margaux.
Due to her commitment with the French Brotherhood, Vivian would split her time between Manchester, Paris, and West Berlin.
Vivian handled all public speaking duties for the French Brotherhood, due to Isabelle's fear of people not taking her seriously as Mentor due to her short stature.
Vivian stood at 5'5.
Vivian was a staunch socialist feminist.
Vivian was an exceptionally talented chess player.
Vivian was known for her tenacious prowess in debates, whether they be Assassin or political debates.
The Hug between Vivian and Isabelle on the dock in 1945 became a popular hug among British and French Assassins
Politically, Vivian identified as an anarcho-socialist.
Vivian was atheist.
Vivian considered the Vietnam War to be a war crime, saying that it 'broke her heart to see the Vietnamese suffer,'
Vivian and her family had two cats, both Mackerel Tabbies, named Queenie and Izzy (the latter named after Isabelle).
Vivian was an avid Beatles fan, with her favourite albums being The White Album and Abbey Road.
Vivian could speak fluent French, Dutch, English, and German. Her strongest languages are Dutch and English, followed by French.
Vivian was able to read and write in both Yiddish and Hebrew, due to her Jewish upbringing.
Vivian's look and appearance were inspired by Canadian Curler Val Sweeting.
Her character theme song is 'Imagine' by John Lennon.
The artworks on this page were done by Timaeus (timayonnaise on Instagram) and i_am_the_vigilante_, also on Instagram, as well as SophiaEA16 on Twitter.